This Shop is read-only. Checkouts and account creation have been disabled, but you can still download your products! Please order our products from stores like Aerosoft or Simmarket. Thank you for your support!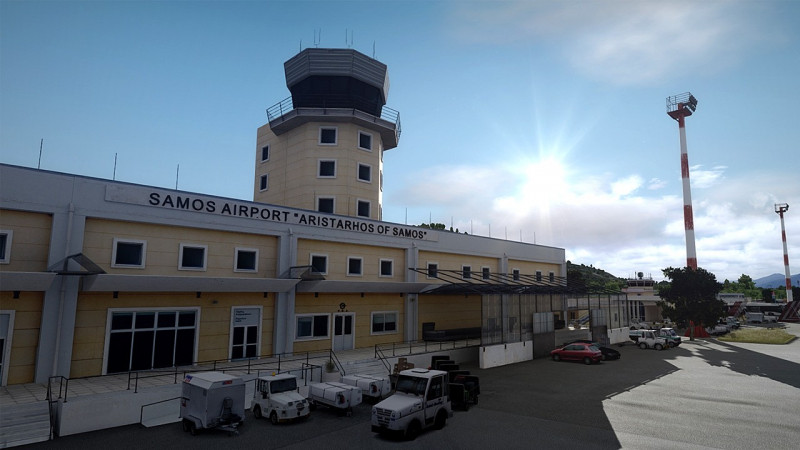  
LGSM - Samos
Scenery of Samos International Airport [LGSM] in Greece. Compatible with Microsoft's Flight Simulator X, Lockheed Martin's Prepar3D v3, v4 and v5.
The most challenging approach in all of Greece! Are you ready to test your piloting skills?
Description:

Samos is the island airport with the most notorious landing approaches in Greece. It involves pure "stick n' rudder" demanding hand-type of flying in between mountains, without navigation instruments guidance, moderate or higher turbulence due to terrain, the FIR border just on the airport's pattern and tight turns short before lining up for last stage of final approach to land.


"I have operated for years into some really demanding airports such as Gibraltar, Innsbruck, Madeira, La Palma. But Samos approaches are still at the top of my list as the most challenging and exciting!" - Giorgio La Pira, A380 Pilot (formerly A320 Examiner)

These are only a few of the reasons why we have decided that this challenging and interesting airport would be the perfect addition to our Greek island series following Mykonos and Skiathos.
This scenery depicts every aspect of its real counterpart in great detail using the latest techniques of flight simulation development.

Are you ready to test your piloting skills? Let the journey begin!

Features:

Highly detailed rendition of Samos International Airport "Aristarchos of Samos" (SMI / LGSM)
90km² coverage with high resolution satellite imagery (0.5m / px)
Extensive landclass and vector upgrades for Samos, neighbouring islands and the turkish coast.
All important landmarks and highly detailed approaches based on feedback from real world pilots.
Realistic shadow rendition on all 3D objects and ground by "texture baking"
Realistic rendition of light sources on all 3D objects and ground by "baked lighting"
Performant 3D-night lighting
High resolution day and night textures (2048px²)
Hand-crafted 2m terrain mesh
Complete reconstruction of airport's lighting equipment
Various animations (people ramp and landside, birds, boats, ships, apron vehicles, cars, flags, windsocks)
SpeedTrees for Prepar3D v3
Sound effects (sound of the sea, seagulls, cars)
New scenery configurator for optimal performance and automatic updates
Compatible with all known add-ons (see scenery documentation for details)
Excellent perfomance with high framerates due to optimizations
Installer includes FSX, FSX:SE, Prepar3D v3, v4 and v5 versions

System requirements:

Microsoft Flight Simulator X (SP2, Acceleration Pack, Gold Edition or Steam Edition) or Lockheed Martin - Prepar3D v3 or v4 or v5
Windows Vista, Windows 7, Windows 8 or Windows 10 (with the newest Service Packs)
3.0 GHz processor (Dual-Core or Quad-Core processors are recommended) 
2 GB RAM (4 GB are recommended) 
3D graphics card with 512 MB 
.NET Framework 4.5 or higher for running the Scenery Configurator
Download-Size: 683MB
Installation-Size: 1.1GB

Compatibility Patches:

✓FTX Global
Awards:
Samos 5 of 5 review by Calypte Aviation
If you are looking for beautiful textures – Samos has them. Small objects scattered around the airport – plenty of them here. Nice terminal models – checked. Static aircraft, suitable for the location – checked. You can even choose the ones included. Animated people – many. Airport fence does not limit scenery's coverage – surrounding towns reflect the unique character of a Greek island. All of that makes Samos a superb scenery. And an interesting airport!
Data sheet
Installer Version

v1.05

Required Software

Microsoft's Flight Simulator X (FSX) OR Microsoft's Flight Simulator X - Steam Edition OR Lockheed Martin's Prepar3D v3 OR Prepar3D v4 OR Prepar3D v5

Optional Software

.NET Framework 4.5 recommended

Location

Samos, Greece

Coverage Area

90km² satellite imagery plus extensive landclass and mesh upgrade for the rest of the island

Compatibility

Compatibility tested with FTX Global, VECTOR, FSGlobal Mesh, UTX, GRCoastlines

Release Date

2016