This Shop is read-only. Checkouts and account creation have been disabled, but you can still download your products! Please order our products from stores like Aerosoft or Simmarket. Thank you for your support!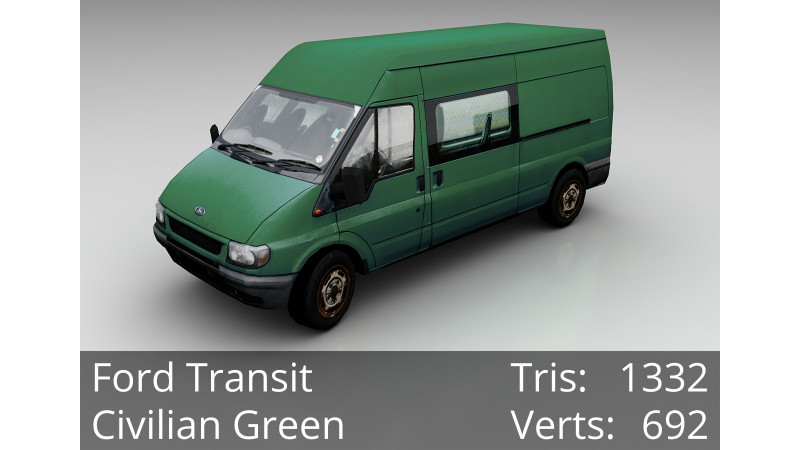  
3D Model - Ford Transit - Civilian Green
Low-polygonal model of a Ford Transit - Civilian Green.
For use in 3D renderings such as traffic simulations, 
architectural visualizations and games.
This is a low-polygonal 3D model of a Ford Transit - Civilian Green.
The model has 1332 triangles, 692 vertices and one 2048x2048px BMP texture which is based on photo-references.
This model is suitable for 3D renderings in architectural visualizations, traffic simulations and games. The model has been optimized for Microsoft's Flight Simulator X and Lockheed Martin's Prepar3D and can be placed directly using the included MDL format.
The attached documentation provides a guide about the implementation of this model in your project.
This model comes with pre-rendered textures providing a realistic look in your game-engine. You can bake additional lighting information such as night lighting in the textures by detaching the overlapped faces such as tires. 
This model is optimized for optimal performance. Only one texture sheet - only one drawcall and a low polygon count make this model predestinated for games.
Data sheet
Vertices

692

Triangles

1332

Geometry

Polygonal Quads/Tris

Native Format

3ds Max 2012

Formats

OBJ, FBX 2009, FSX MDL

Unwrapped UVs

Yes, overlapping

UV Mapped

Yes

Textures

Yes

Animated

No
Reviews
No customer reviews for the moment.